#85FOR85 GIVEAWAY
Use the official entry form below to enter WCEC's 85th Anniversary Giveaway.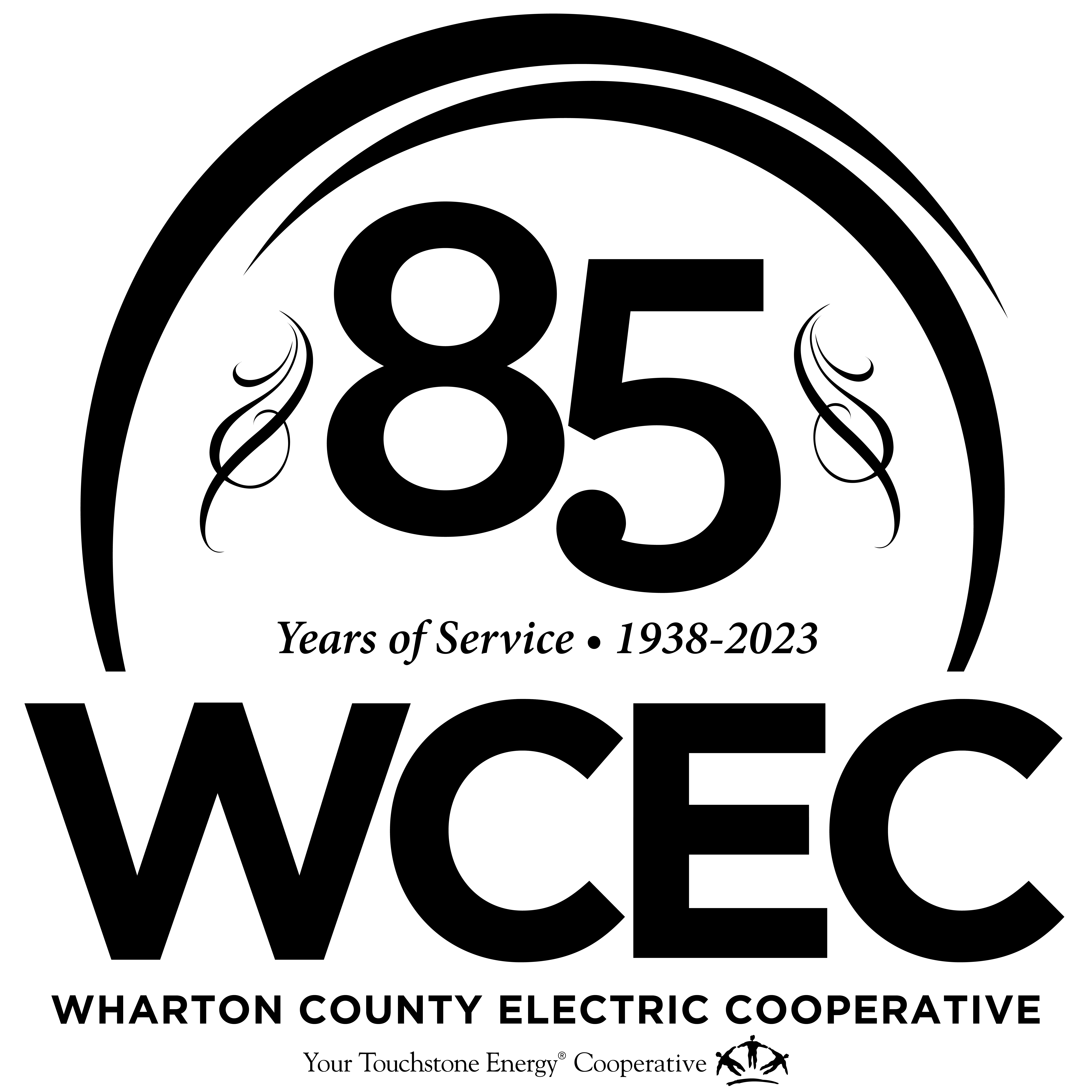 The Wharton County Electric Cooperative #85for85 Giveaway is open to all current members of Wharton County Electric Cooperative as of the date of entry. Entries will be accepted starting March 1, 2023, and ending October 31, 2023. Entries must be received by midnight on the last day of each month during the giveaway period. All entries received by the last day of each month will be entered in that month's drawing. Drawings will be held during the first week of these months in 20223: April, May, June, July, August, September, October, and November. Members are only eligible to win once during the contest period.
The winner in each monthly drawing will receive an $85 bill credit on their WCEC bill during the next billing cycle. No cash or other prize substitution shall be permitted. The prize is not transferrable. Acceptance of the prize constitutes permission for WCEC to use the winner's name, likeness, and entry for purposes of advertising and trade without further compensation unless prohibited by law. 
To enter, members must complete the Entry Form provided at MyWCEC.coop/85for85. To be considered valid, the entry form must contain the member's name, service address, phone number, account number, and a valid Entry Code. A Wharton County Electric Cooperative representative may complete entry forms for members without Internet access. Please call 979-543-6271 to speak with a Consumer Services Representative. Entries that are incomplete or do not adhere to the rules or specifications may be disqualified at the sole discretion of WCEC.
Valid Entry Codes:
SPB – Members may use Entry Code SPB for each active account enrolled in SmartHub and paperless billing.
Register for SmartHub here. 
AP – Members may use Entry Code AP for each active account enrolled in Automatic Payments.
Sign up for AutoPay here or call us at 979-543-6271.
ORU – Members may use Entry Code ORU for each active account enrolled in Operation Round Up.
Sign up for Operation Round Up here.
LM – Members may use Entry Code LM for each active account enrolled in the Load Management program.
Join Load Management here. If you are on the waiting list, please use code LMW.
 
Members may also earn entry codes by subscribing to and completing WCEC email campaigns, participating in lunch and learn webinars, and attending the WCEC 85th Anniversary celebration. All additional entry opportunities will be listed on this page. Members can also follow #85for85 on our Facebook and Instagram pages for additional opportunities to enter the contest.
All valid entry codes may only be used once during the entire contest period of March 1, 2023 – October 31, 2023. 
The odds of winning depend on the number of eligible entries received. Winners will be selected by a random drawing under the supervision of WCEC. The winner will be notified by phone or email within five (5) days following the selection of the winner. The bill credit will be automatically applied to the winner's account on the next billing cycle following selection.
---
MONTHLY WINNERS:
AUGUST
Edward Ermis
JULY
Sarah Bender
JUNE
Glen & Norma Korenek
MAY
Chad & Kelsey Hajovsky
APRIL
Stephanie Blake
MARCH
Debbie & Bing Bernard
full width paragraph
SCAM ALERT: On March 3, 2022, WCEC's Facebook page and website were cloned in an attempt to scam our members who shared a #85fo85 Giveaway post on our social media. We deleted the giveaway post from all our social accounts, but it may still appear on profiles that shared it. If you have fallen victim to any kind of fraud, please contact local authorities and Facebook to report this. We were unable to use the entries from the posts affected by this scam attempt.